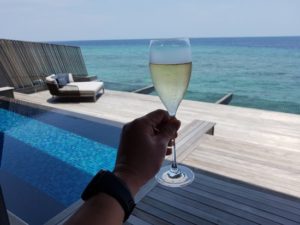 Looking for a relaxing island getaway but no idea where the best location to go? If you are thinking of lounging in an overwater bungalow while enjoying the spectacular view of the dancing waves and crystal clear blue water then check out some of the spectacular overwater bungalow resorts in the world.
The St. Regis Maldives Vommuli Resort
Exuding tranquillity and a distinguished ambience, the exclusive island retreat of St. Regis Maldives Vommuli is the perfect destination for some relaxation and romance. The overwater abodes offer an amazing view of the Indian Ocean while lounging on the expansive terraces or taking a dip in the private plunge pools. Also, enjoy a pampering couple spa at the in-house Iridium Spa.
Four Seasons Resort
One of the most relaxing places in the world, Bora Bora's Four Seasons Resort is tranquillity personified with its turquoise waters and splendid mountain views. It is the recipient of numerous honours including Best Resort in the 2017 Honeymoon Awards.
Belize's Cayo Espanto
An exclusive island three miles off the San Pedro coast, Cayo Espanto in Belize is the site of seven distinctive villas and includes the much-coveted Casa Ventanas. The single bedroom bungalow is surrounded by water on all sides and offers complete privacy and a unique tropical experience. A sailboat and kayak are also available for some aquatic adventure.
A vacation in an overwater bungalow resort is the perfect holiday experience. Whether you are looking for a romantic getaway with your special someone or just want a worthy destination to spend your precious vacation days, you will surely have an amazing time at these spectacular overwater bungalow resorts.